Sustainability
Sustainability in Macclesfield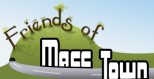 The nearest thing to a Transition Macclesfield umbrella.

Reducing Food Miles

Community Garden

Horticultural Soc

Rec ground
Congleton Sustainability Group Contact: Peter Aston This e-mail address is being protected from spambots. You need JavaScript enabled to view it
ECOG - East Cheshire Organic Gardeners offer a programme of lectures and garden visits for novices and experts alike. Visit their web site .

Better than Recycling: Arrange sameday collection and re-using of your surplus goods .

Cheshire's Local Agenda 21, the plan for sustainable living in the 21st century.
Abundance Manchester is a project which picks surplus or unwanted fruit from gardens and public trees around South Manchester and distributes it to local groups and communities.

Macclesfield's Litterbusters Group